About
The National Deaf Games is an annual event platform providing opportunities for the Deaf community to compete against one another in their favourite sports and to encourage higher participation in physical activities which promotes healthy lifestyle.
The inaugural National Deaf Games was successfully organised in early March 2015. The entire event registered 143 Deaf participants. The guest-of-honour, Deputy Prime Minister and Minister for Finance, Mr Tharman Shanmugaratnam, graced the Opening Ceremony of 1st National Deaf Games at Jurong East Sports Centre. More than 250 spectators turned up to watch the action of Futsal.
Objectives
Allow members to experience both fun and higher competitive games.
Provide members with opportunity to play against their own family and friends.
To boost the recruitment drive for the Deaf sports development programme.
To identify talents and potential athletes and prepare them for future major games.
Eligibility
Open to Singaporeans, Permanent Residents and foreigners working in Singapore. A participant shall be Deaf or Hard of Hearing and shall be a member of any of DSA affiliated member organisation.
Permanent Resident or foreigner working in Singapore shall be a client member of their national deaf association in their native country. Document proofs are required.
General Information
For the General Rules & Regulations for the National Deaf Games, please click here.
For list of DSA affiliated member organisations, please click here.
For information on the hearing test procedure, please click here.
For any enquiries on National Deaf Games, please write in to events@dsa.org.sg
What's new
The 3rd National Deaf Games 2017 will be held from 29 October till 12 November and encompasses four sports games that spread over four days.  For the first time, Table Tennis, will be added to the list of sports for the NDG 2017.
For the first time, we shall allow a deaf participant to register non-deaf participant who shall be:
Spouse of Deaf person
Child of Deaf adult
Sibling of Deaf person
Parent of a Deaf child
The winners of each sport will stand to win attractive prizes at the end of the day.
In addition, there will have few interesting programmes at National Deaf Games for kids, families and relatives to enjoy while cheering for participants in the competition.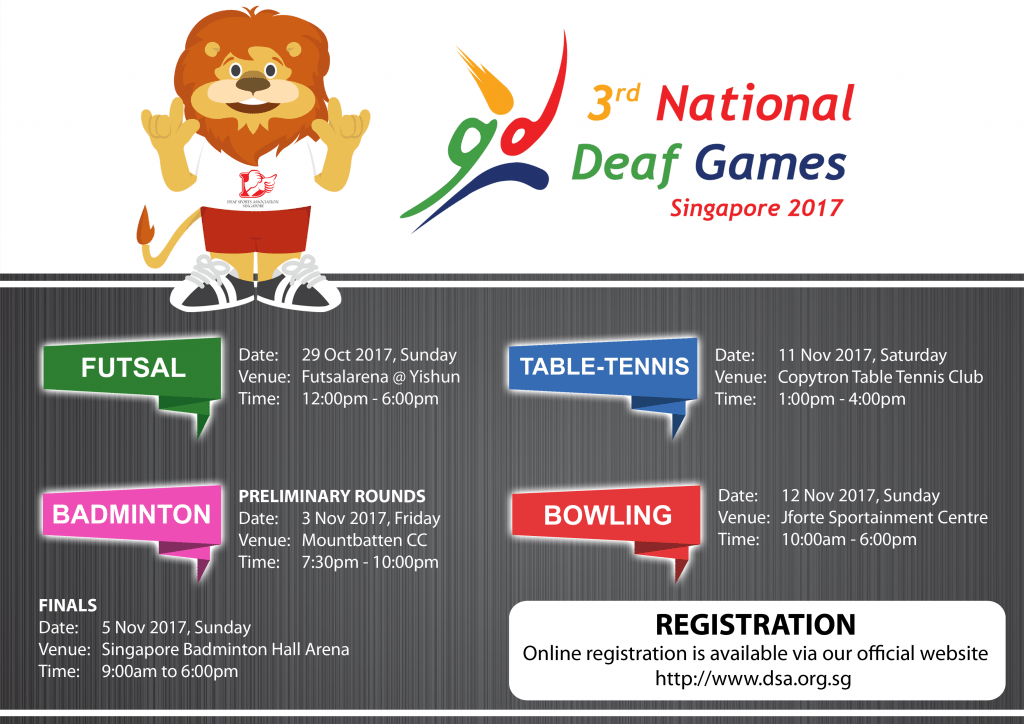 Click on the respective sports event (below) for online registration.
2nd National Deaf Games 2016
Click on the respective sports event (below) for the results and photo gallery.
National Deaf Games 2015
Gallery of the captured memories