Singapore represented by 12 Deaf athletes competing in the inaugural SEA Deaf Games in athletics, badminton and bowling.
Adelia Naomi Yokoyama took all gold in the 5 bowling events – Singles, Doubles, Trios, Masters and the Women's Overall event.
Senior Parliamentary Secretary, Mr Eric Chua, was present at the Flag Presentation Ceremony held on 19th November organised by Singapore Disability Sports Council.
The week-long competition came to an end on the 26th of November 2022 as the Singapore contingent returned from Malaysia to a welcoming party of families, friends and supporters present at Seletar Airport. Staff of Micron were also there to elevate the homecoming atmosphere congratulating the deaf athletes.
It was an event to remember for Adelia Naomi Yokoyama, 23, who took all gold in the bowling events –
Singles, Doubles, Trios, Women's Overall Event and the Masters. Naomi led the pack of eight competitors in the Women's Masters event. The rest were trailing by at least a hundred points after just two games in the eight games series. Naomi, who topped the points, qualified automatically for the final. The second and third place had to play in the semi-finals to book a spot in the final. It ended up with a Singapore versus Malaysia final and Naomi gradually edged out her opponent for the win.
"It is an indescribable feeling for winning all gold at the 1st SEA Deaf Games, however, I am extremely happy and proud to achieve my personal best of 1330 in the 6 games series. Looking forward to participate in more major competitions in the coming year.
"Many thanks to coach William Woo in trying different ways in training to achieve results. Without Deaf Sports Association Singapore and the coach, I may not have gotten this far," said the two-time Deaflympics gold medallist.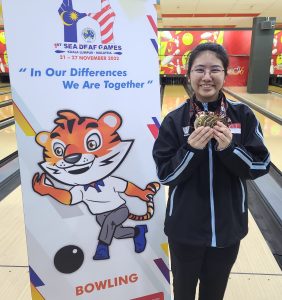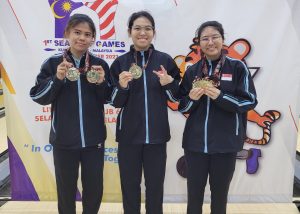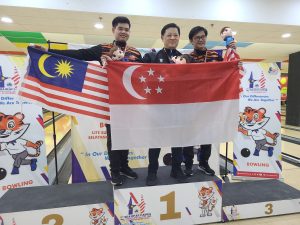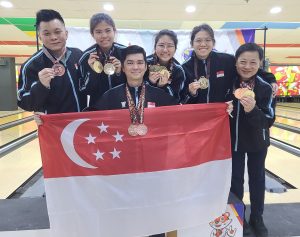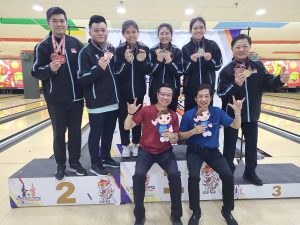 Vincent Chong Kar Keong, 54, after winning the gold in the Men's Masters event said, "I did not expect to win. When I knew I won, I was surprised and very happy." He took three medals in total, including the Men's Doubles and Trios. At the 1st ASEAN Deaf Bowling Championships 2019 in Manila, however, Vincent brought home more medals with two golds in Men's Singles and All-Event, two bronzes in Doubles and Trios.
The young Esther Ng Zhi En, 16, was ecstatic and honoured when she won her first gold in Women's Trios event. She thanked Deaf Sports Association Singapore, coach William Woo and her seniors for providing the opportunity and support. She said, "As this is my first overseas competition, I wanted to learn more from the seniors and enjoy my games. The competitors performed well and that taught me to be resilient and to persevere."
Lim Jia Yi, Chef de Mission for the 1st SEA Deaf Games said, "Naomi is an excellent example and role model to spur the others in the Deaf and Hard-of-Hearing community to engage in sports. Deaf Sports Association Singapore is the national body for sports for the deaf. With guidance, deaf individuals can excel in sports and at the same time, integrate socially with other communities through sports activities."
Deaf Sports Association Singapore thanked Micron Foundation for sponsoring this competition trip and making all these achievements possible.
News article by the Straits Times