UOL Group Chief Executive, Mr Liam Wee Sin, presented a combined cheque of $12,000 to Kimberly Quek Hwee and Adelia Naomi Yokoyama for their performances and achievements at the 24th Summer Deaflympics 21/22 bowling events held in Kuala Lumpur, Malaysia, from 20th to 30th October
Naomi claimed gold in Women's Singles, silver in Women's Doubles and bronze in Women's All-events. Kimberly claimed silver in Women's Doubles
UOL Group Limited also sponsored the overseas trip for the Singapore contingent to compete at the 24th Deaflympics
Senior Parliamentary Secretary, Mr Eric Chua, was present at Flag Presentation Ceremony held on 1st October and welcome home party on 31st October
The post-competition contribution from UOL made SGDeafSport bowling athletes, Kimberly Quek Hwee and Adelia Naomi Yokoyama, prouder of their achievements at the 24th Summer Deaflympics 21/22. UOL is the first corporate organisation to award Singapore's Deaflympians with a sum of twelve thousand dollars through the Athletes Performance Award by Deaf Sports Association Singapore. UOL's contribution will be distributed to the deserving athletes and Deaf Sports Association Singapore's ongoing Training and Development Program.
UOL had also sponsored the Singapore contingent to compete against world opponents at the Deaflympics event held in Kuala Lumpur, Malaysia from 20th to 30th October 2022.
An appreciation ceremony was held on 6th December 2022, where UOL Group Chief Executive Liam Wee Sin presented the cash awards to the two athletes. President of Deaf Sports Association Singapore, Mr Loh Eng Meng, also presented a plaque of appreciation to Mr Liam to thank UOL's contribution.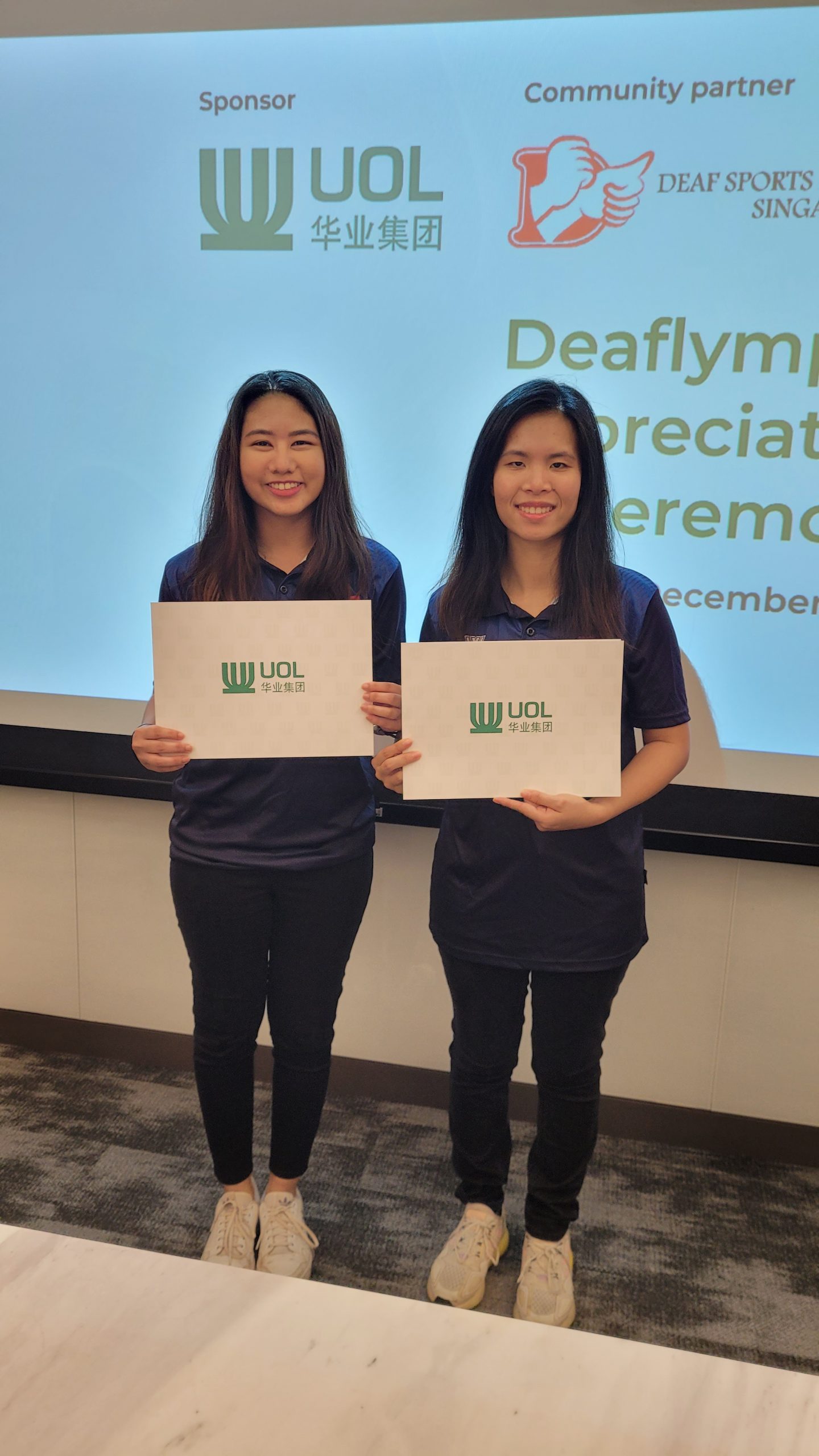 Mr Loh said, "There is no doubt that the deaf community would want to embark on any opportunities provided, and sports being one of them. Deaf Sports Association Singapore is here to provide the programmes for sports training and development. However, with contributions and sponsorships from Inclusion Champions, the deaf athletes can keep on believing, scaling new heights and achievements. Our heartfelt gratitude goes to UOL for keeping the athletes' dreams alive."
Kimberly, who clinched the silver medal at the Women's Doubles event said, "I am indeed thankful, given the recognition and validation of our hard work behind our sports achievements. It keeps me motivated to thrive on my sporting journey. All sporting journeys are challenging, realising our dreams is even harder. Despite the difficulty, these journeys are memorable so it is important to enjoy the process at the same time."
Two-time Deaflympics gold medallists, Naomi said, "It is wonderful that we are moving forward in recognition and support. Knowing that, it keeps me motivated to compete in major tournaments, harnessing the exposure and experience.
"Since young, my passion for bowling is always alive and running. Moving from strength to strength. However, recognising our weaknesses and failure are crucial as that will determine how fast we can succeed." Naomi looks forward to world championship competitions and the next Deaflympics which will be held in Tokyo, Japan.
The Deaflympics has been one of the longest running multi-sport event in history after the Olympics. At the 23rd Deaflympics 2017, Naomi and Kimberly, who were 18 and 17 years old then, brought home the gold and bronze medals from the Women's Masters bowling event respectively. Amidst the celebration, they have only the medals to cheer about. However, with UOL's generous award contribution, the deserving medallists has much to celebrate bringing home all the medal colours from the 24th Deaflympics.
Deaf Sports Association Singapore hopes to increase the awareness for this ultimate sporting event for the Deaf and hard-of-hearing community which finds lacking in our society, despite the prestige and reputation it has harnessed.
Behind the competition, all SGDeafSport athletes go through strict training regime in preparation. They are individuals who work or study full-time. The sacrifice and discipline take them to another level where goals and targets drive them to perform their very best. We congratulate all deaf athletes for their commitment in sports and we look forward for more support from organisations in our continuing mission to provide sports avenues for the Deaf and Hard-of-Hearing community to participate and compete.
The main sponsor, UOL Group Limited, has been championing inclusivity in sports and the arts, and felt extremely proud of our athletes' achievements at the 24th Deaflympics. They remain committed to nurturing promising young athletes like Naomi and Kimberly to reach their full potential and believe that these athletes will achieve greater heights in the future.