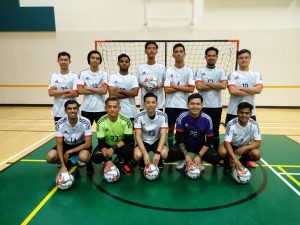 On Saturday, 26 January 2019, the DSA Men Futsal team had their first ever friendly match against the none other than former Singapore Futsal National team from 2015 AFF Squad. The latter won by score line of 10 – 2 against the inexperience but determined side who are preparing for their first upcoming major competition to be held in Bangkok, Thailand. The 3rd Asia Pacific Deaf Futsal Championship 2019 will be held from 15th to 24th February 2019.
When asked if they have played with Deaf team before, the leader of the pack, Mr Farhan Farook confessed, "I have played with the Deaf futsal teams in private leagues last time and it was always tough to beat them. The DSA team we played against was really good and their spatial awareness, quick movements and work ethic was impressive."
He added,"Deaf sports have been popular since I was young, I have some deaf friends who are really good players."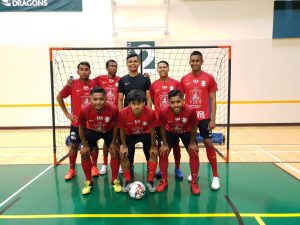 The former Singapore Futsal National team comprised of 8 players turned up for the friendly match against the Deaf host team on 26 January 2019 at the UWCSEA Tampines and they are Farhan, Saifuddin Ramli, Oswind, Hazwan, Helmi, Nazirul Islam, Amir and Nurul Islam. The experience in AFF 2015 was a huge eye opener for all of them and made them fell in love with the Futsal game deeply which drove them to participate in several overseas tournaments and enthusiastically active in Singapore futsal scene until today.
"There's definitely hope for the Futsal development in Singapore. If private and government sports organisations could work together, our futsal scene can grow. As you know, futsal development creates better footballers as well. We should start in schools and have our own proper semi-pro leagues to start with," claimed Farhan who's also the gaffer of Under-19 futsal team.
Farhan and his teammates were quick to respond about their opinion playing against this new Deaf team,"It's always an honour to play with teams like DSA who showed great respect to the game and opponents. They showed great character as athletes and we wish them all the best in their upcoming tournament."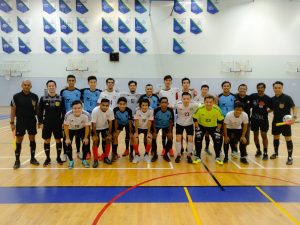 The Deaf Men Futsal team was once again put to the test with a final friendly outing against the Under-19 futsal team, mentored by Farhan Farook, before the team fly off to Bangkok. The friendly match with the Under-19 team was held on Saturday, 9 February 2019 at UWCSEA Dover and it ended with the visiting team won by 12 – 11. It was the second defeat for the Deaf team in preparation for the major competition.
"They are adapting well in terms of movement and team play. Of course, lots of learning points to take note and I am pleased with how this Deaf team has progressed despite having limited time of training and preparation due to work and school commitments. And they can only get better and better with opportunities given," explained the Team Manager cum Coach, Mr Jaffa Mohamed Salleh.
"The main objective was to get real match exposure in this futsal game with credible opponents and real officials from the FAS officiating the match and this would be similar when we are in Bangkok as all our current players have yet to compete in such major competition especially in Futsal," added Jaffa.
In sports, the most critical senses are vision, touch, and hearing. So, it would seem as if deaf people have only two-thirds of the active senses of hearing people, and therefore are at a competitive disadvantage.
This can be proven wrong for two reasons:
Deaf athletes can heighten their senses of touch and vision to concentrate deeper and longer than hearing athletes.
For everyone else, hearing can be a weakness if it makes us focus on the wrong sounds.
Winning, in any individual or team sport, boils down not to the physical or external, but to the mental and internal faculties. Most professional coaches, players, and trainers believe that the difference between great performance and average or poor performance is not skill, but deep concentration.
The Deaf Men Futsal team will be flying off to Bangkok on 15th February 2019 for their first major competition and we wish them the best of endeavour.