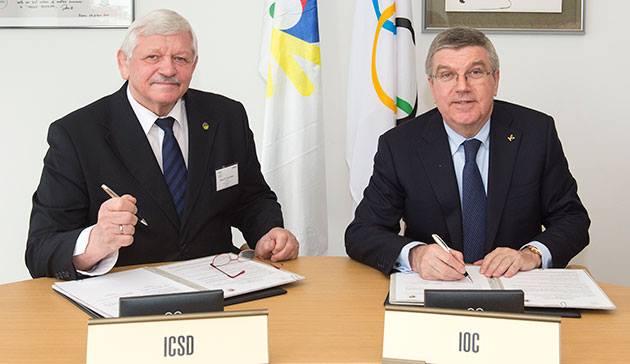 A Memorandum of Understanding (MoU) between the International Olympic Committee (IOC) and the International Committee of Sports for the Deaf (ICSD) was signed on 8 March at the IOC headquarters in Lausanne.
The MoU, signed by IOC President Thomas Bach and ICSD President Dr. Valery Nikitich Rukhledev, follows Recommendation 7 of Olympic Agenda 2020, which aims to "strengthen relationships with organisations managing sport for people with different abilities, with a view to exploiting synergies in all possible areas including technical assistance, communication activities and promotion of events via the Olympic Channel".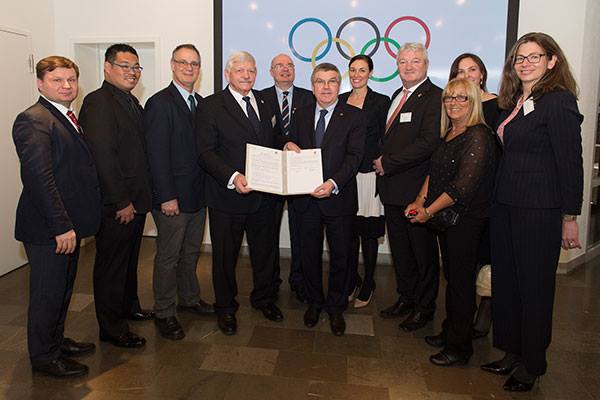 Olympic Agenda 2020 is the IOC's strategic roadmap for the future of the Olympic Movement, which was unanimously approved by the IOC Session in December 2014.
The IOC will work with the ICSD to supplement the MoU by providing athlete support through the IOC Athlete Learning Gateway and Olympic Athletes' Hub, and an implementation model for the Olympic Movement Code on the Prevention of the Manipulation of Competitions.
"This agreement with the International Committee of Sports for the Deaf is another step in the implementation of our reform programme, Olympic Agenda 2020," said President Bach. "Working with athletes of all abilities and helping to provide opportunities for all to benefit from sport is a fundamental part of the Olympic values."
ICSD President Rukhledev said: "Promotion of the rights of persons with disabilities is my life. This is an important day for the ICSD, with the signing of the Memorandum of Understanding that formalises the relationship that we have had with the IOC since 1955. We look forward to a strengthened relationship between our two organisations in the future."
The IOC recognised the ICSD in 1955 and has granted patronage to the Deaflympics since 1985. The ICSD officially opened its new offices yesterday at the House of International Sport in Lausanne.
The ICSD delegation that visited the IOC headquarters included ICSD Chief Executive Officer Dmitry Rebrov and ICSD Board members.
Source: http://www.olympic.org/…/ioc-signs-mou-with-internat…/248824